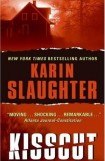 "Engrossing
[with] meticulous characterizations." – People
"Like the atmosphere of casual malevolence in Shirley Jackson's 'The Lottery' or the contagious suspicion that fuels Rod Serling's 'The Monsters Are Due on Maple Street,' creepiness spreads like kudzu in Slaughter's small-town setting." – Washington Post Book World
"Karin Slaughter deserves all the praise she gets for her razor-sharp plotting and forensic detail. But for me the hook is in her characters and relationships.
They are right on the mark." – Michael Connelly
"The undertone of violence is pervasive, even at quiet moments, amplifying Slaughter's equation of intimacy with menace and placing her squarely in the ranks of Cornwell and Reichs." – Publishers Weekly
"A fast-paced thriller for those not faint of heart." – Library Journal
"It's not easy to transcend a model like Patricia Cornwell, but Slaughter does so in a thriller whose breakneck plotting and not-for-the-squeamish forensics provide grim manifestations of a deeper evil her mystery trumpets without ever quite containing." – Kirkus Reviews
"With Blindsighted, Karin Slaughter left a great many thriller writers looking anxiously over their shoulders.
With Kisscut, she leaves most of them behind
It succeeds brilliantly." – John Connolly
"A tension-filled narrative with plenty of plot twists This is just the ticket for readers who like their crime fiction on the dark side." – Booklist
"Impossible to put down Slaughter hits all the buttons, providing an original and well-plotted story that doesn't let up until the final sentence." – Orlando Sentinel
"Karin Slaughter is an impressive new landmark on the thriller map." – Val McDermid
"Slaughter delivers a noir thriller complete with a brooding atmosphere that veers into Southern gothic tradition [She] gives us an understanding about victims that only a well-constructed hard-boiled novel can. This is a novel that has staying power, because she makes us care so much about the characters." – Florida Sun-Sentinel
"Though her forensics and investigative writing place her in a league with Patricia Cornwell and Kathy Reichs, Slaughter's tweaking of the human condition is key to making her a uniquely original voice in the world of mystery and suspense." – Mississippi Clarion Ledger
"Karin Slaughter is a fearless writer. She takes us to the deep, dark places other novelists don't dare to go. Kisscut will cement her reputation as one of the boldest thriller writers working today." – Tess Gerritsen
***
Amazon.com Review
When police chief Jeffrey Tolliver responds to a disturbance at a local skating rink, the last thing he expects is to have to shoot a 13-year-old girl who's holding a gun on a fellow student. Then Jenny Deaver's autopsy reveals two stunning facts: she did not bear the murdered newborn discovered in the rink's restroom, and she had recently been genitally mutilated. With his ex-wife, pediatrician Sara Linton, Jeffrey uncovers a child sex and pornography ring involving Jenny, her classmates, and their mothers-a horrific enterprise that culminated in the killing that Tolliver will never be able to forget. This taut, chilling thriller showcases Karin Slaughter's skill at plotting, pace, and narrative, and will linger in the reader's mind long after the stunning denouement. This is a terrific sequel to her debut, Blindsighted, with two protagonists whose complex relationship will no doubt be a featured subplot in her next offering.
From Publishers Weekly
Aptly named novelist Slaughter (Blindsighted) brings back her horribly scarred cast of Grant County, Ga., cops and coroners for more murder, mayhem and horrific sexual violence. Pathologist Sara Linton, who has been dating her ex-husband, police chief Jeffrey Tolliver, is witness to Tolliver's fatal shooting of a teenage girl when the girl threatens to shoot a 16-year-old boy in a standoff outside the local skating rink. A search of the rink turns up a dismembered fetus in a toilet; Sara's postmortem reveals the girl had a long history of abuse most gruesomely, her vagina is sewn shut. Working the case alongside Jeffrey is Det. Lena Adams, herself the victim of a recent abduction and rape, who is also trying, with difficulty, to come to terms with the death of her gay sister. Questioning Mark, the boy who was almost shot, Lena gradually uncovers a true horror show of pedophilia, incest and kiddie porn, an inverted world where parents rape their children before peddling them to strangers for money and blackmail. Slaughter adheres to the traditional mystery format, but turns up the shock factor tenfold, demonstrating that the deepest depravity can be business as usual in small towns as well as big cities. The undertone of violence is pervasive, even at quiet moments (" Lena was able to pull her hand away, but not before she felt Grace's thumb brush across the scar The touch was tender, almost sexual, and Lena could see the charge Grace got out of it"), amplifying Slaughter's equation of intimacy with menace and placing her squarely in the ranks of Cornwell and Reichs. (Sept.) Forecast: Slaughter's much-praised first novel, Blindsighted, put her on the thriller map. Kisscut, a featured alternate selection of the Literary Guild, Doubleday Book Club, Mystery Guild and BOMC, could make her a bestseller. 10-city author tour.
Жанр:
Триллер
Скачано:
125 раз
Прочитано:
407 раз
Чтобы скачать Kisscut бесплатно в формате fb2, txt, epub для андроид, iPhone, iPad, iBooks, на телефон или на планшет выберите подходящий формат книги из представленных ниже. Хотите читать онлайн книгу Kisscut перейдите по указанной ниже ссылке.
Kisscut читать онлайн