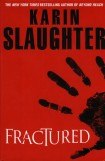 'No one does American small-town evil more chillingly Slaughter tells a dark story that grips and doesn't let go' – The Times
'Without doubt an accomplished, compelling and complex tale, with page-turning power aplenty' – Daily Express
'Slaughter deftly turns all assumptions on their head Her ability to make you buy into one reality, then another, means that the surprises – and the violent scenes – keep coming' – Time Out
'A great read crime fiction at its finest' – MICHAEL CONNELLY
'A fast-paced and unsettling story A compelling and fluid read' – Daily Telegraph
'Criminally spectacular' – OK!
'Slaughter knows exactly when to ratchet up the menace, and when to loiter on the more personal and emotional aspects of the victims. Thoroughly gripping, yet thoroughly gruesome stuff' – Daily Mirror
'Slaughter's plotting is relentless, piling on surprises and twists A good read that should come with a psychological health warning' – Guardian
'The writing is lean and mean, and the climax will blow you away' – Independent
'Karin Slaughter is a fearless writer. She takes us to the deep, dark places other novelists don't dare to go one of the boldest thriller writers working today' – Tess Gerritsen
'Confirms her at the summit of the school of writers specialising in forensic medicine and terror Slaughter's characters talk in believable dialogue. She's excellent at portraying the undertones and claustrophobia of communities where everyone knows everyone else's business, and even better at creating an atmosphere of lurking evil' – The Times
'Brilliantly chilling' – heat
'A salutary reminder that Slaughter is one of the most riveting writers in the field today' – Sunday Express
'Don't read this alone. Don't read this after dark. But do read it' – Daily Mirror
'With Blindsighted, Karin Slaughter left a great many mystery writers looking anxiously over their shoulders. With Kisscut, she leaves most of them behind' – JOHN CONNOLLY
'Brilliant plotting and subtle characterisation make for a gruesomely gripping read' – Woman Home
'Unsparing, exciting, genuinely alarming excellent handling of densely woven plot, rich in interactions, well characterised and as subtle as it is shrewd' – Literary Review
'Energetic, suspenseful writing from Slaughter, who spares no detail in this bloody account of violent sexual crime but also brings compassion and righteous anger to it' – Manchester Evening News
'It's not easy to transcend a model like Patricia Cornwell, but Slaughter does so in a thriller whose breakneck plotting and not-for-the-squeamish forensics provide grim manifestations of a deeper evil her mystery trumpets without ever quite containing' – Kirkus Reviews
'Slaughter has created a ferociously taut and terrifying story which is, at the same time, compassionate and real. I defy anyone to read it in more than three sittings' – DENISE MINA
'Wildly readable [Slaughter] has been compared to Thomas Harris and Patricia Cornwell, and for once the hype is justifieddeftly crafted, damnably suspenseful and, in the end, deadly serious. Slaughter's plotting is brilliant, her suspense relentless' – Washington Post
'Taut, mean, nasty and bloody well written. She conveys a sense of time and place with clarity and definite menace – the finely tuned juxtaposition of sleepy Southern town and urgent, gut-wrenching terror' – STELLA DUFFY
Жанр:
Триллер
Скачано:
36 раз
Прочитано:
330 раз
Чтобы скачать Fractured бесплатно в формате fb2, txt, epub для андроид, iPhone, iPad, iBooks, на телефон или на планшет выберите подходящий формат книги из представленных ниже. Хотите читать онлайн книгу Fractured перейдите по указанной ниже ссылке.
Fractured читать онлайн