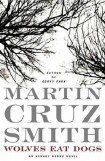 Amazon.com Review
"Why would anyone jump out a window with a saltshaker?" A good question, especially when the suicide victim is Pasha Ivanov, a Moscow physicist-turned-billionaire businessman-a "New Russian" poster boy, if ever there was one-with several homes, a leggy 20-year-old girlfriend ("the kind [of blonde] who could summon the attention of a breeze"), and every reason to be contented in his middle age. So, wonders Senior Investigator Arkady Renko, in Martin Cruz Smith's Wolves Eat Dogs, what provoked Ivanov to take a header from his stylish 10th-floor apartment? And how does it relate to the shaker clutched in his dead hand or the hillock of table salt found on his closet floor?
Renko, introduced in Smith's 1981 bestseller, Gorky Park, is a cop well out of sync with rapidly changing Russian society, "a difficult investigator, a holdover from the Soviet era, a man on the skids" whose determination to do more than go through the motions of criminal inquiries inevitably exasperates his superiors. Thus, when this saturnine detective declines to accept the verdict that Ivanov did himself in-who peppered that salt around the capitalist's premises, Renko still wants to know, and what about rumors of a security breach at Ivanov's apartment building?-he is exiled to the Ukrainian Zone of Exclusion, the "radioactive wasteland" surrounding Chernobyl, site of a notorious 1986 nuclear disaster and the place where, only a week after Ivanov's demise, his company's senior vice-president is found with his throat slit. There, among cynical scientists, entrepreneurial scavengers, and predators both two- and four-legged-an exclusive coterie of the rejected-Renko chews over the crimes on his plate. Unfortunately, the dosimeter that warns him of radiation exposure at Chernobyl does not also protect him from a pair of malevolent brothers, or a "damaged" woman doctor offering him mutually assured disappointment.
Smith has a keen eye for the comical quirks of modern-day Russia -its chaotic roadways, voracious appetite for post-communist luxuries, and evolving ethics ("Russians used to kill for women or power, real reasons. Now they kill for money"). And this story's bleakly beautiful Ukrainian backdrop nicely complements the desperate hope of Renko's task. Still, the greatest strength of Wolves Eat Dogs (Smith's fifth series installment, after Havana Bay) is its characters, especially Arkady Renko, who despite his lugubrious nature continues to show a heart as expansive and unfathomable as the Siberia steppe.
From Publishers Weekly
Smith's melancholy, indefatigable Senior Investigator Arkady Renko has been exiled to some bitter venues in the past-including blistering-hot Cuba in Havana Bay and the icy Bering sea in Polar Star-but surely the strangest (and most fascinating) is his latest, the eerie, radioactive landscape of post-meltdown Chernobyl. Renko is called in to investigate the 10-story, plunge-to-the-pavement death of Pasha Ivanov, fabulously wealthy president of Moscow 's NoviRus corporation, whose death is declared a suicide by Renko's boss, Prosecutor Zurin. Renko, being Renko, isn't sure it's suicide and wonders about little details like the bloody handprints on the windowsill and the curious matter of the closet filled with 50 kilos of salt. And why is NoviRus's senior vice-president Lev Timofeyev's nose bleeding? Renko asks too many questions, so an annoyed Zurin sends him off to Chernobyl to investigate when Timofeyev turns up in the cemetery in a small Ukrainian town with his throat slit and his face chewed on by wolves. The cemetery lies within the dangerously radioactive 30-kilometer circle called the Zone of Exclusion, populated by a contingent of scientists, a detachment of soldiers and those-the elderly, the crooks, the demented-who have sneaked back to live in abandoned houses and apartments. The secret of Ivanov and Timofeyev's deaths lies somewhere in the Zone, and the dogged Renko, surrounded by wolves both animal and human, refuses to leave until he unravels the mystery. It's the Zone itself and the story of Chernobyl that supplies the riveting backbone of this novel. Renko races around the countryside on his Uralmoto motorcycle, listening always to the ominous ticking of his dosimeter as it counts the dangerous levels of radioactivity present in the food, the soil, the air and the people themselves as they lie, cheat, love, steal, kill and die.
Жанр:
Триллер
Скачано:
9 раз
Прочитано:
261 раз
Чтобы скачать Wolves Eat Dogs бесплатно в формате fb2, txt, epub для андроид, iPhone, iPad, iBooks, на телефон или на планшет выберите подходящий формат книги из представленных ниже. Хотите читать онлайн книгу Wolves Eat Dogs перейдите по указанной ниже ссылке.
Wolves Eat Dogs читать онлайн