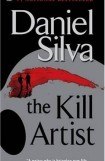 Amazon.com Review
Fans of Daniel Silva's well-received earlier novels, especially The Marching Season, will welcome his newest novel of espionage, revenge, and Middle Eastern politics. Gabriel Allon is an art restorer who's persuaded out of retirement by Ari Shamron, the crafty Israeli spymaster bent on a deadly mission: killing a Palestinian agent named Tariq before he can carry out his plan to assassinate an old comrade-in-arms, the treacherous peacemaker Yasir Arafat.
Tariq's role in the murder of Gabriel's wife and son draws both Gabriel and Sarah Halevy, the beautiful French model whose affair with Gabriel led to the assassination of his family. Still in love with Gabriel, Sarah allows herself to be set up with a cover and infiltrated into Tariq's inner circle. But before Gabriel can rescue her and fulfill his mission, Tariq turns the tables to get his old adversary as well as Arafat in his own sights. A particularly resonant scene in which Tariq and Arafat confront each other and discuss their former friendship, as well as the change in tactics that has brought Tariq to the ultimate betrayal, reveals Silva's deep comprehension of Palestinian rivalries. He puts a clever little fillip on the ending that adds to the brio of this strongly paced thriller. Silva creates complex, fascinating characters in Gabe, Ari, and Tariq, and more than fulfills the promise of his earlier books.
From Publishers Weekly
The tragedy of the Palestinian-Israeli conflict and despair of its resolution provide the backdrop for Silva's (The Unlikely Spy) heart-stopping, complex yarn of international terrorism and intrigue. Israeli master spy Ari Shamron sets an intricate plot in motion to lure deadly Palestinian assassin Tariq al-Hourani into his net. Art restorer Gabriel Allon, a former Israeli agent whose family was killed by Tariq, is lured back into the fray by Shamron and teamed with Jacqueline Delacroix, a French supermodel/Israeli secret agent whose grandparents died in the Holocaust. Gabriel sets up in London to monitor Yusef, Tariq's fellow terrorist and confidant. Jacqueline is assigned to seduce him in hopes of intercepting Tariq, who is devising a plan to kill Israel's prime minister during peace talks with Arafat in New YorkDand he has similar plans for Gabriel. The tortuous plot leading the various parties to the showdown in Manhattan is a thrilling roller-coaster ride, keeping readers guessing until the mind-bending conclusion. Sensitive to both sides of the conflict, the narrative manages to walk a political tightrope while examining the motivations of Palestinians and Israelis alike. The duplicity and secret financial juggling to keep government hands clean is personified in publishing mogul Benjamin Stone, who backs the Israeli efforts. He is just one of many larger-than-life characters (both real and invented) thrown into the mixDArafat himself has a tense encounter with Tariq that underscores the volatility of terrorist loyalty. An array of global locales adds to the complexity and authenticity of the dizzying, cinematic plot. (Dec.) Forecast: The popular success of Silva's first two novels and the timeliness of this one suggest escalating sales. Random is backing the title with major ad/promo, including a six-city author tour.
Жанр:
Триллер
Скачано:
133 раз
Прочитано:
1572 раз
Чтобы скачать The Kill Artist бесплатно в формате fb2, txt, epub для андроид, iPhone, iPad, iBooks, на телефон или на планшет выберите подходящий формат книги из представленных ниже. Хотите читать онлайн книгу The Kill Artist перейдите по указанной ниже ссылке.
The Kill Artist читать онлайн