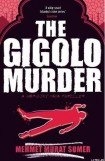 My Hop-Çiki-Yaya (pronounced Hope Cheeky Ya Ya) thriller series now consists of seven books in Turkish, including the latest book, Chasing Destiny, and three translated into English – The Prophet Murders, The Kiss Murder and The Gigolo Murder. I have questioned whether or not I should continue with the series, but my dearest and closest friend (and agent) Mr. Barbaros Altug managed to persuade me with his witty and authoritarian arguments, and so I shall continue!
Over the course of the series I've tried to reverse traditional perceptions of negatives and positives. The criminals in my stories come from mainstream society, and you'll find that the transgender people who are often marginalised in everyday life are mostly positive characters. My transgender characters and their supporters represent joy, fun and solidarity. I transpose the supposed negatives of society into the positives, and vice versa. I believe that transgender people are often misrepresented, and I want to alter the media's presentation of transgender people as freaks, slapstick characters or unethical people with the potential to commit any kind of crime. What I defend in this series is that being a transgender person is a choice.
At the start of The Gigolo Murder we find my Audrey Hepburn alter-egoed protagonist in a deep depression, skinnier than usual, unshaved for days, miserable, because of a recently ended love affair. His/her best buddy Ponpon comes to the rescue with her motherly force, and takes him/her to the club where Ponpon is the ultimate show diva. At the club a murder falls into the lap of my transvestite amateur sleuth and because he/she starts to fancy the perfect-male-specimen lawyer who is the brother-in-law of the suspect, he starts to investigate the murder of the famed gigolo. This adventure in the series is also where my protagonist develops closer relations with female characters and not just real fag-hags!
The ending of The Gigolo Murder is my ode to the grand-dame of crime Agatha Christie's finales. Everybody gathers in a hall and our sleuth answers all of our questions.
Жанр:
Детектив
Скачано:
2 раз
Прочитано:
154 раз
Чтобы скачать The Gigolo Murder бесплатно в формате fb2, txt, epub для андроид, iPhone, iPad, iBooks, на телефон или на планшет выберите подходящий формат книги из представленных ниже. Хотите читать онлайн книгу The Gigolo Murder перейдите по указанной ниже ссылке.
The Gigolo Murder читать онлайн