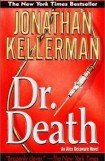 "[Kellerman] has shaped the psychological mystery novel into an art form." – Los Angeles Times Book Review
"More than satisfying Kellerman delves deep into the psyche of his characters, peeling back the layers of secrets to uncover a stunning truth." -The Orlando Sentinel
"Kellerman uses bloody killings, psychological intrigue and a straight-ahead writing style to keep readers turning pages well into the night." -The Denver Post
"Often, mystery writers can either plot like devils or create believable characters. Kellerman stands out because he can do both. Masterfully." – USA Today
"[An] intriguing thriller A heady blend of criminal profiling and police procedural and another surefire hit for the bestselling Kellerman." -Booklist
***
People are voluntarily dying before their time in California. Some call it assisted suicide when cancer or heart disease or painful old age make the quality of life unbearable. Others say it is murder, that no-one has the right to help others take their own life.
As the debate rages over whether euthanasia should be legalised or not the man at the centre of the row, nick-named Doctor Death, continues his work. Dr Alex Delaware joins in the argument, but when Detective Milo Sturgis comes to him with the suspicion that some of Doctor Death's patients are not willing collaborators, Delaware finds himself on the front line of the affair, and increasingly believes that euthanasia is not the prime motivation. So what is driving Doctor Death to kill so many?
Жанр:
Триллер
Скачано:
19 раз
Прочитано:
292 раз
Чтобы скачать Dr. Death бесплатно в формате fb2, txt, epub для андроид, iPhone, iPad, iBooks, на телефон или на планшет выберите подходящий формат книги из представленных ниже. Хотите читать онлайн книгу Dr. Death перейдите по указанной ниже ссылке.
Dr. Death читать онлайн