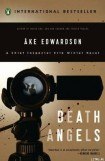 The debut thriller in the internationally acclaimed series – available for the first time in the United States
A long-time number one bestseller in his native Sweden, Åke Edwardson's profile was conspicuously raised when his novel Frozen Tracks was chosen as a finalist for a 2008 Los Angeles Times Book Prize. Until now, however, the novel that launched Edwardson's critically acclaimed Erik Winter series has never been available in the United States. With a new series translator who fully captures Edwardson's signature atmospheric style, Death Angels is America's introduction to Sweden's youngest Chief Inspector as he teams up with Scotland Yard to solve the mysterious parallel killings of young British and Swedish tourists. Richly evocative of mid-nineties South London and Gothenburg, Sweden, Death Angels is a brilliant opening to a mesmerizing series that has become a phenomenon in international crime fiction.
***
"A crime novel with snappy dialogue, depth and-most important of all-suspense from beginning to end." – Morala Vadstena Tidning (Sweden)
"Edwardson will not be hampered by the constraints of the crime genre with his sharp dialogue and a backdrop of darkness that recalls the early works of James Ellroy, one must proclaim Åke Edwardson a master of the Scandinavian detective novel." – Le Monde des Livres (France)
"A read which even on a really warm July day sends cold shivers down my spine Edwardson's language is vivid and full of nuance." – Hufvudstadsbladet (Finland)
"A fast, sleek, hard ballad." – Die Welt (Germany)
"Clever, exciting, atmospheric!" – Der Spiegel (Germany)
Жанр:
Триллер
Скачано:
22 раз
Прочитано:
276 раз
Чтобы скачать Death Angels бесплатно в формате fb2, txt, epub для андроид, iPhone, iPad, iBooks, на телефон или на планшет выберите подходящий формат книги из представленных ниже. Хотите читать онлайн книгу Death Angels перейдите по указанной ниже ссылке.
Death Angels читать онлайн