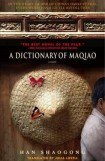 From Publishers Weekly
Maqiao, a fictitious rural village lost in the vitals of Mao's Communist empire, is to Han's magical novel what Macondo is to One Hundred Years of Solitude-a place in which the various brutalities and advances of contemporary history are transformed within the "fossil seams" of popular myth. Han adopts the rules of the dictionary to the rules of fiction, distributing mini-sagas of rural bandits, Daoist madmen and mixed up Maoists across the definitions of terms with special meaning in Maqiao. Han, narrator as well as author, is sent to Maqiao as part of a cadre of "Educated Youth" during the Cultural Revolution. A sharp, sophisticated observer, he narrates these folkloric tales from the vantage point of contemporary China, situating them within a richly informative historical and philosophical framework. Among the stories that deserve mention are those of Wanyu, the village's best singer and reputed Don Juan, who is discovered to lack the male "dragon"; of "poisonous" Yanzao, so called both because his aged mother has a reputation as a poisoner and because he is assigned to spread pesticides (and in so doing absorbs such a quantity of toxins that mosquitoes die upon contact with him); and of Tiexiang, the adulterous wife of Party Secretary Benyi, who takes up with Three Ears, so called because of the rudimentary third ear that grows under one of his armpits. Flawlessly translated by Lovell, this novel should not be missed by lovers of literature.
Review
"The best novel of the year isn't that DeLillo-on-automatic-pilot thing that broke out, along with SARS, this spring; nor the smutty anti-Islamic screed by the super-annuated French juvenile delinquent; nor even Jane Smiley's excellent investigation of the unlikely souls of real estate agents. Rather, it is this 'dictionary' of the dialect of a fictitious village, Maqiao, lost in the squat hills of South China." – San Francisco Chronicle Book Review "[A] subtle and smashingly effective critique of the futility of totalitarian efforts to suppress language and thought – and, more to the point, a stunningly imaginative and absorbing work of fiction." – Kirkus Reviews "[A Dictionary of Maqiao] is a magnificent book, epic in its ambitions and sweep without any of the sentimental obfuscation on which that genre so often depends." – The Village Voice "[B]oth fascinating and masterful Han paints a detailed, intriguing and amusing picture of what happens when Marxism collides with entrenched village beliefs, and how traditional China coexists with modernity. The book is filled with peculiar, beguiling, tragic characters and scenery so real you can touch it This is an intelligent, amusing, clever, fascinating and well-written view of a China most of us never see, or don't recognize when we do." – Asian Review of Books "To enter [A Dictionary of Maqiao]'s pages is to cross into a world of bandits and ghosts, where 'rude' means 'pretty,' and homosexuals are 'Red Flower Daddies' and people don't die, they 'scatter.'" – The New York Times Book Review " Dictionary of Maqiao is a wonderful, many-layered novel written as a series of definitions which gains further depth from a good translation Han Shaogong's novel [is] clever, sympathetic and amused Julia Lovell's translation is an impressive achievement, a fine reflection of a complex book." – Times Literary Supplement "Han Shaogong's novel has won wide acclaim, and deservedly so; through his treatment of language, he not only vividly portrays village life in rural China, but also inspires readers to rethink what they are accustomed to taking for granted." – Persimmon "Sometimes humorous, but crude and grim at other times, the entries all intertwine to give readers a picture of life in this distant region." – Library Journal "The narrator's folkloric stereotypes the provincial simpletons and fools, the cuckolded husbands, the long-suffering wives resolve affectingly into distinct human beings. And the peasant vocabulary vulgar, quaint, superstitious which so perplexesthe earnest young outsider is also revealed to be cunningly subversive, an antidote to the totalitarian imposition of a "reality"irreconcilably at odds with the real thing." – Amanda Heller, The Boston Globe "This is a serious, ground-breaking and finally brilliant novel by one of China's leading authors The translation is everywhere excellent – fluent, colloquial where appropriate, without being excessively so, learned in places, and without any hint anywhere of 'translationese' surely destined for classic status." – Bradley Winterton, Taipei Times "In its formal inventiveness, its nuanced depiction of Chinese peasant life, and its speculative explorations into the Chinese cultural psyche, this is one of the finest novels of the post-Mao era to so far make its way into English." – Jeffrey Twitchell-Waas, Review of Contemporary Fiction "Worth readingfascinating and surprisingly accessible." – Anton Graham, China Economic Review "Han is a good storyteller, ingeniously leading the reader into the heart of his stories A Dictionary of Maqiao is readable and enjoyable." – Fatima Wu, World Literature Today
***
In a country where much can hinge on the written word, Chinese author Han Shaogong gives it the respect it deserves. In a beautiful afterword to his A Dictionary of Maqiao, he writes: "Words have lives of their own. They proliferate densely, endlessly transform, gather and scatter for short bursts, drift along without mooring, shift and intermingle, sicken and live on, have personalities and emotions, flourish, decline, even die out."
Contrary to what the title suggests, A Dictionary of Maqiao is actually a novel, written in an interesting technique, almost through the point of view a spectator. Han spends much of the years of the Cultural Revolution in China, in a small village in the south called Maqiao. He spreads the words of the authority while staying useful and productive in the village. Han knows as well as anybody that the language of a region is an effective mirror of its culture. Through "dictionary entries," explanations of region-specific terms, a picture of Maqiao (arguably even China) appears. The entries are fascinating some just a paragraph in length, others going for at least a few pages. A single entry can count for larger criticisms or appreciation of culture. For example, an examination of the word, "sweet," indicates that the word can actually cover a wide spectrum of flavors in Maqiao. Han also makes a beautifully executed leap to generalizations peoples of the world make about each other: "Even today, the majority of Chinese people still have great difficulty in distinguishing the facial types of western, northern, and eastern Europeans, and in making out cultural differences between the British, the French, the Spanish, the Norwegians, the Poles etc. The names of each European people are no more than empty symbols in school textbooks, and many Chinese, when put on the spot, are still unable to make any link between them and corresponding characteristics in facial type, clothing, language and customs. This baffles Europeans, just as it baffles the Chinese that Europeans cannot differentiate clearly between people from Shanghai, Canton, and the Northeast."
Another interesting "entry" is one on science where the residents consider science to be the product of "lazybones" and therefore deride its use. As with any culture, modern values soon make their appearance even in Maqiao. Towards the end, Han explains: "In Maqiao during the 1990s, a lot of new words came into fashion and passed into common usage: 'television,' 'paint,' 'diet,' 'operate,' Ni-Ping (a well-known television host), 'disco dancing,' 'Highway 107,' 'seafood,' 'lottery tickets,' 'build the Great Wall (play Mahjong),' 'bump-the-butt' (motorbike), 'hold the basket' (act as mediator) and so on."
While these dictionary entries make for a fascinating glimpse into China, the book is not easy reading. For one, the very small print creates practical difficulties. This combined with the heft of the material can weigh the reader down significantly. Still, the end result is well worth the reader's effort. A Dictionary of Maqiao (translated ably by Julia Lovell) emerges as a wonderful, if fractured, portrait of China. Han Shaogong, through his award-winning novel, provides not only a nuanced look into modern China, but also focuses on language as an instrument of keeping culture alive. "Strictly speaking, what we might term a 'common language' will forever remain a distant human objective," he says, "providing we don't intend exchange to become a process of mutual neutralization, of mutual attrition, then we must maintain vigilance and resistance toward exchange, preserving in this compromise our own, indomitable forms of expression." A Dictionary of Maqiao establishes wonderfully, the vital link between language and culture. In a world of rapid globalization, the subtle warning about the increasing loss of languages is only too timely and important.
Reviewed by Poornima Apte
Жанр:
Современная проза
Скачано:
131 раз
Прочитано:
265 раз
Чтобы скачать A Dictionary of Maqiao бесплатно в формате fb2, txt, epub для андроид, iPhone, iPad, iBooks, на телефон или на планшет выберите подходящий формат книги из представленных ниже. Хотите читать онлайн книгу A Dictionary of Maqiao перейдите по указанной ниже ссылке.
A Dictionary of Maqiao читать онлайн