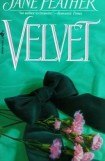 Clad in black velvet and posing as a widowed French comtesse, Gabrielle de Beaucaire had returned to England for one purpose only-to ruin the man responsible for her young lover's death.
But convincing the forbidding Nathaniel Praed, England's greatest spymaster, that she would make the perfect agent for his secret service would not be easy. And even after Gabrielle had lured the devastatingly attractive lord to her bed, she would have to contend with his distrust-and with the unexpected hunger that his merest touch aroused
From the moment he met her, Nathaniel Praed knew that the alluring Gabrielle de Beaucaire spelled trouble. But though he fought her outrageously bold advances, he could not stem the turbulent hunger that swept through him when the tall, titian-haired vixen pressed her lips to his. Now, against his better judgment, she is in his employ. And as Europe trembles at a tyrant's war and sinister minds plot against them, Nathaniel and Gabrielle find themselves at the mercy of an exquisite passionand a love that could save-or destroy-both their lives
Nathaniel flung himself from his horse and ran to the inert figure.
"Gabrielle! Dear God!" He dropped to his knees beside her, tearing at the snowy cravat to bare her throat, his fingers feeling for her pulse. It was strong but fast. He sighed with relief and then frowned. The black lashes formed half-moons on the pale skin, her lips were slightly parted, her chest rising and falling with each regular breath.
Her pulse was far too vibrant for an unconscious person.
"Gabrielle," he said in a near whisper. "If this is a trick, so help me, I'll make you sorrier than you've ever been in your life."
"Try it," she said. Her eyelids swept up, revealing utterly mischievous charcoal eyes, and in the same moment she sat up. Her arms went around his neck before he realized what was happening and her mouth found his.
A wildness swept through him. His arms went around her. For a minute their tongues fenced, and then he moved his hands to grasp her head, holding it strongly as he drove deep within her mouth on a voyage of assertion that in some faint part of his brain seemed long overdue.
Gabrielle had believed she could fake sufficient response to satisfy him. She had not expected to find herself responding from some deep passionate well within herself.
It wasn't supposed to happen. But it was happening. And Nathaniel Praed was matching her every step of the way. And it was going to play merry hell with her schemes of revenge
Жанр:
Исторические любовные романы
Скачано:
1 раз
Прочитано:
92 раз
Чтобы скачать Velvet бесплатно в формате fb2, txt, epub для андроид, iPhone, iPad, iBooks, на телефон или на планшет выберите подходящий формат книги из представленных ниже. Хотите читать онлайн книгу Velvet перейдите по указанной ниже ссылке.
Velvet читать онлайн